OA knee braces
Osteoarthritis (OA) of the knee is wear and tear of the joint causing pain or stiffness, more commonly on the inside of the knee. The articular cartilage becomes worn causing the joint space to narrow and become less smooth. An unloading knee brace can apply a force to the outside of the knee to open the gap enough to reduce the pain and make walking more comfortable. Often lower profile single sided knee braces are sufficient, however in more severe cases a double sided brace is needed.
Unloader One®
Unloader One® is a comfortable, lightweight, low-profile brace that provides excellent suspension and unloading leverage. This lightweight brace preserves the clinically-proven Össur® Unloader 3-Points of Leverage design by incorporating Dual Dynamic Force Straps that are easily fine-tuned via a Dynamic Force Control System. Colour-coded Quick Fit Buckles simplify application and removal, while flexible shells and breathable liners, coated with Össur Sensil® Silicone improve comfort and reduce migration, helping to ensure patient compliance. Recent research demonstrates that Unloader One reduces pain, improves function and decreases the use of pain medication.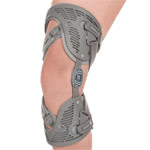 Mild to severe unicompartmental osteoarthritis
Unicompartmental knee conditions requiring load reduction, such as Articular Cartilage Defect Repair,  Avascular Necrosis, or Tibial Plateau Fracture
Thigh circumferences of 13.5" to 29" (34.3cm to 73.5cm) and calf circumferences of 9.8" to 24" (24.9cm to 61.5cm)
All non-contact activities
ACL and MCL ligament knee braces
The two most common knee ligament injuries are the anterior cruciate ligament (ACL) and medial colateral ligament (MCL). These can be injured alone or in combination with each other. Injury can result in pain and instability. A well fitting and supportive rigid frame knee brace can increase the stability of the knee joints allowing pain reduction and an increase in activities. These can be used to help prevent an operation or limit the damage while waiting for an operation. Some people also chose to continue with the brace for a return to impact sports such as skiiing.